Bruno G. Odermatt, President

Ladies and Gentlemen

On behalf of the Board of Directors, I extend to you a warm welcome to the Swiss Thai Chamber of Commerce (STCC).  The STCC is a professionally managed foreign Chamber, which was formally established on 13th October 1998 by a group of visionary Swiss-Thai business people and entrepreneurs. As the STCC celebrates its 20th anniversary in 2018, the mission and objectives have remained the same over the years. The STCC strives to provide support to its members in matters of commerce and investments and promoting business and trade between Thailand and Switzerland. Through close work with its governments, authorities, and trade organizations of both Switzerland and Thailand, the STCC was able to assist Thailand in securing substantial investments of Swiss companies in Thailand. The Chamber's 20-year existence has been a challenging journey with many adjustments along the way. Despite these obstacles, we were able to establish ourselves as a trusted partner and support to the Royal Thai Government.
Our achievements do not only benefit large corporations, but also smaller companies. The STCC currently has close to 160 active members, whose corporate members employ roughly 50,000 people in Thailand. Our members range from start-up companies to well established SMEs, to large multinational organizations, representing all major industries of the Swiss economy. Some of our members have a long-established presence in Thailand, such as Nestle Thailand, whose history dates back to October 1893, and The Diethelm Group, which was established in 1906.
Over the years we have built a solid foundation and our Chamber has a strong financial footing. Unlike many other Chambers who have access to funds and resources of their respective governments, the STCC is self-funded and does not receive any government subsidies. Our main source of income are the membership and sponsorship fees of our members. This ensures the independence of our Chamber and provides value to our members by prudently managing budgets and maintaining a lean and efficient organization.
Besides advocacy work on behalf of its members, the STCC is also engaged in social responsibility and community support, as well as organizing platforms for frequent networking events to share knowledge, and the exchange of business and social aspects relevant to conducting business in Thailand. Our monthly network gathering at the Arnoma hotel, called STAMM, is a really delightful event which always attracts a sizeable number of business professionals. If you want to meet new people, extend your business network, or catch up with other professionals within your industry, why not attend our STAMM.
Whether you are an aspiring young entrepreneur, represent a small to medium sized company or a multinational corporation, I encourage you to become a part of the Swiss business community in Thailand and join us today.
Should you have more questions or would like to address any other issues which are of concern to you, please contact me at president@swissthai.com. The long-established presence of our Chamber has only been possible by the loyal engagement of you, our current and future members. Without your support our success story would not be told today.
With my best wishes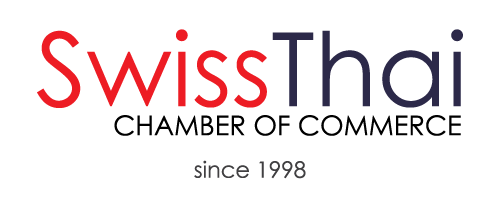 Bruno G. Odermatt-Maag, CPCU
President