Swiss chambers in the Asia-Pacific region start collaboration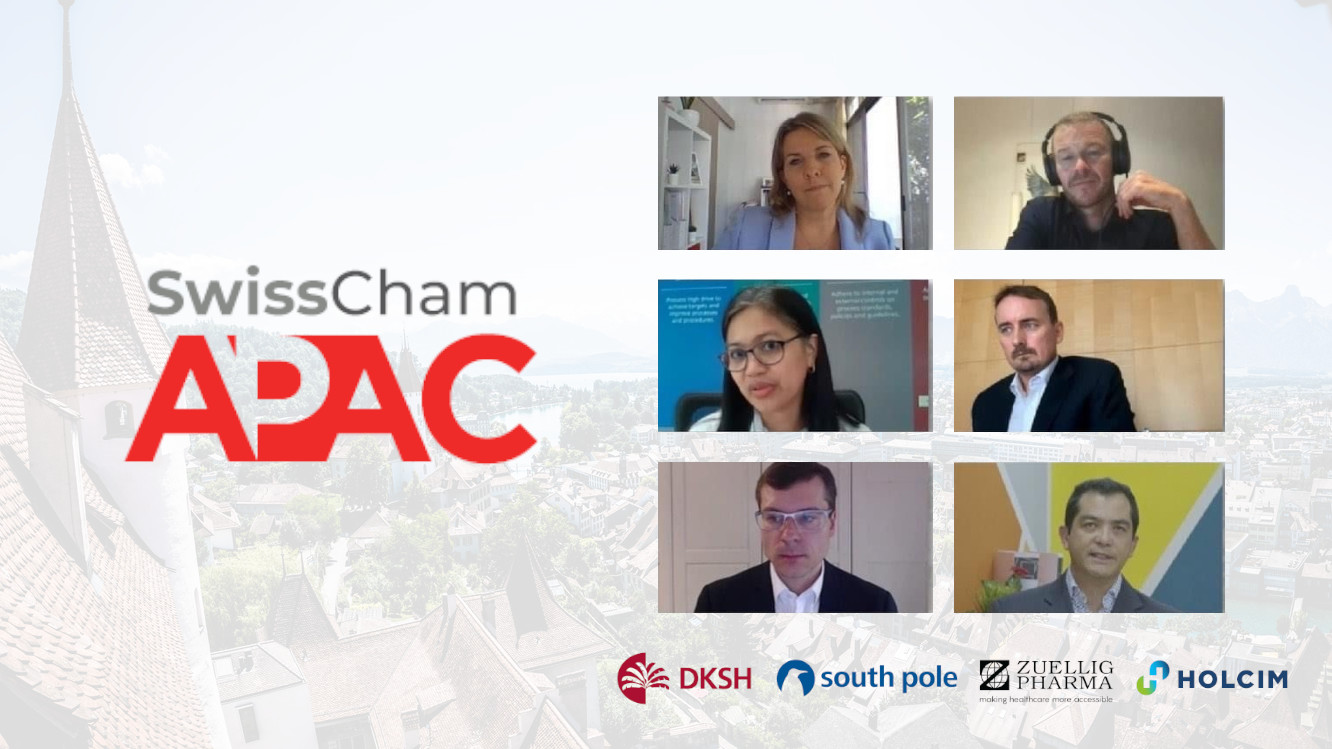 Sustainability focus
After growth was slowed by the pandemic, the participating chambers have decided to help reignite growth, embrace the future, and position Swiss companies as valuable partners in the region. They have chosen a strong "Team Switzerland" approach, in which the Swiss private sector will cooperate with the federal government and the chambers.

The first step towards deepening chamber relations is taking place in the context of a series of conference events on the topic of sustainability, one of the two key thematic focus areas of Switzerland's Foreign Economic Policy Strategy. This conference series allows Swiss companies to showcase solutions and technologies contributing to sustainable growth as well as their regional approaches in corporate social responsibility (CSR).
Conference series
The collaboration is kicking off with four webinar events in 2022 showcasing Swiss companies' sustainability efforts in APAC and sharing their expertise and best practices with the community, with an audience of around 150 online participants, among them business leaders from the SwissCham APAC Network, the Swiss-Asian Chamber of Commerce in Switzerland (SACC), and governmental stakeholders in APAC and Switzerland.

The inaugural webinar held on March 15 focused on what Swiss companies have already achieved and what can be emulated and scaled by other players in APAC. The main objectives were to convey and exchange information around implementing sustainability in a business environment, incentivizing and adapting behavior, taking small steps leading to big achievements, and getting the whole workforce of a company on track. Commercial benefits and cost savings when observing sustainability issues were also discussed.
Project samples
The first webinar speaker represented the Swiss market expansion provider DKSH, a member of the SwissThai Chamber of Commerce among others. Ms. Sheena Flannery of Group Marketing, Healthcare and Consumer Goods, assisted by Mr. Simon Binder in Zurich, explained how DKSH brought its sustainability principles to life. She presented two projects: DKSH supports a food bank in Malaysia that locates surplus food and distributes it to poor people. Moreover, the Swiss company put solar panels on the roofs of large distribution centers and warehouses in Thailand. Special light-weight solar panels had to be used due to the low-bearing roofs.

Ms. Zoe Sibala, Chief Sustainability Officer of the Swiss construction material company Holcim Philippines, a member of the Philippine-Swiss Business Council, introduced various initiatives in the fields of climate and energy, circular economy, people and community, and sustainable construction advocacy. For example, Holcim employees volunteer to teach "sustainable construction" at a college of engineering. Other programs involve sharing tips and best practices around storage, transport and handling of materials, safety education of delivery truck drivers, waste management, tree planting, and clean water.

Mr. Erwan Vilfeu, President of Zuellig Pharma in South Korea, a member of the Swiss-Korean Business Council, talked about the sustainability journey of the Swiss integrated health care service provider. Zuellig Pharma identified 22 material issues and grouped them into four pillars. In the next step, the company set measurable targets and continuously monitored the progress of its efforts. Electricity consumption was chosen as the main target. Its "Greenovate" projects range from the lighting and insulation of warehouses to the management of recycling waste. For its successful efforts, Zuellig Pharma received the "Ecovadis" platinum award which only 1% of all companies attain.

Upon registration to the SwissCham APAC platform, the recording of Episode 1 can be found here.
Text: Martin Fritz for SCCIJ